Background / Artist Focus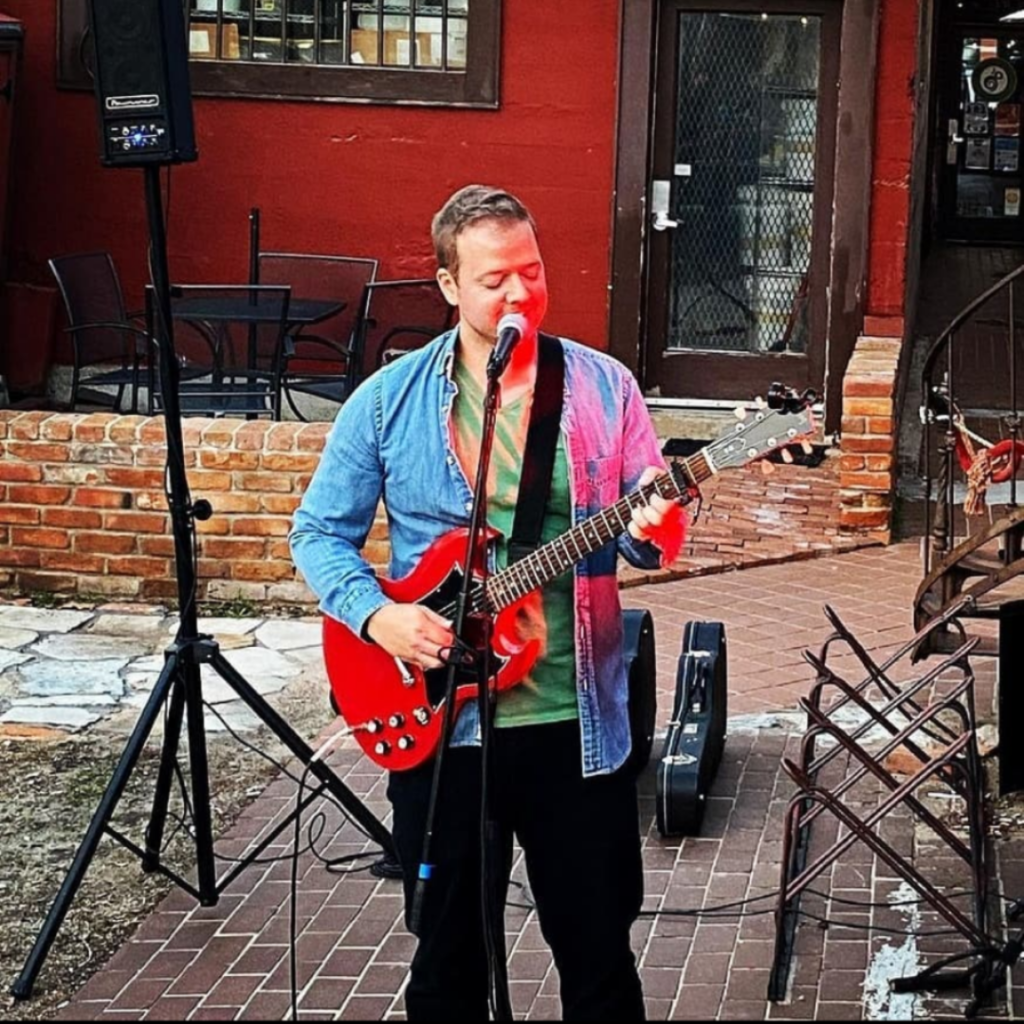 Tofu Boy is the latest project by our Music Producer and Mastering Engineer, Josh Shirt.
On Tofu Boy songs, Josh is behind every part of the music, from lyrics, to song composition, recording and production, and mastering. Josh also plays all of the instruments in Tofu Boy and sings lead vocals.
His production has convinced uninformed listeners that Tofu Boy is a complete rock band (as in this podcast) and not one man doing everything himself.
In this blog post we take a look at all of the stages involved in making Tofu Boy's first single Shark Attack – from song writing, to production, to release and reviews.
Song Writing
Lyrics
Shark Attack started life as a stream of thought scribbled into a notepad in a coffee shop in Philadelphia, PA.
The lyrics as they were written at this point had a fast-paced and sometimes irregular style, especially in terms of syllable count. Being a British citizen now living in America, Josh's words were also a mix of British and American colloquialisms.
Music
Josh searched through a "work in progress" folder on his computer containing musical ideas, riffs and hooks (saved from improvisational sessions on the guitar and keys) and found a catchy and powerful guitar hook, written about a month earlier, pinned with a note that it would make the "perfect opening" to a rock song.
And so it became the "perfect opening" to Shark Attack!
By using the riff's musical key with the Circle of Fifths, Josh experimented and came up with the chord progression that's heard in the verses and pre-chorus. Later, to keep things interesting, he added a key change at the song's chorus – switching back and forth between two different keys for the alternating choruses.
The melody heard in Shark Attack's quirky vocal delivery emerged quite spontaneously. Josh experimented with different melodies over the new chord progression, captured a few phone recordings of his experiments, and then listened back and chose the best results.
Demo
Here is the song's demo. It shows the bare bones of the song at this point, before lyrical substitutions, a chorus with lyrics, production, mixing and mastering.
Work-shopping
Next, Josh work-shopped the song with one of his American friends.
Following his friend's advice he decided to swap some of the British colloquialisms for more universal ones (Josh performs to USA audiences most often). To give an example of this, the opening line "Do you remember when video cassettes stacked the rack" became "Do you remember when VHS stacked the rack".
Some of these lyric substitutions also allowed him to refine the syllable count and rhyming patterns in parts of the lyrics, which helped tighten up the lyrical rhythm and flow.
Music Production
The finished version of Shark Attack is a quirky mashup of pop and punk music.
In this section we'll look at how and why Josh chose to shape the sound in this way. You can listen along to the finished song here as you read.
From Josh's personal love of Garage Rock, Shark Attack was always going to be made into a badass rock / punk song. It's also a song with a lot of nostalgia for 1980s, 1990s and 2000s pop culture – and this is how the pop sound came to feature in the track.
Let's go into more detail:
It was a known thing that the intro had to rock! This was achieved by processing the guitar sounds with a lot of distortion, and panning two different performances of the same guitar riff "hard left" and "hard right". The hook was then mirrored in the bass guitar (a Gibson SG artificially shifted down an octave and layered with a "driving" software synth) and finally, a sharp snare cuts through the mix like crackling lightning – rock intro done!
Before all of this happens however, he opens the song with the glitched and distressed sound of a dial-up modem – dropping the listener straight back into 1990s nostalgia.
When Josh started building and layering the track around the newly recorded guitars, some pop songs came to mind that helped inspire further production decisions: Britney Spears "Baby One More Time" has an opening piano hook that's parodied at 35 seconds, and is a song that uses bells throughout to give a bright and chirpy sound. In Shark Attack bells are used in verse three as a throwback to 2000s pop music.
There are many more pop culture references in the cover artwork and audible throughout the track – can you spot them all?
Drums
Because Josh didn't have a real drum kit to hand he chose to use electronic drum samples. This was actually an easy decision because Josh also has a passion for electronic music, and likes to cross-over the rock and electronic genres when he makes music under the moniker "Shirty".
From his Spotify "Liked Songs", Josh knew that Beck's 2018 song "Dreams" made good use of electronic drums while still being an indie rock song. The thud of the kick in "Dreams" provided a good reference when mixing and mastering "Shark Attack".
Rock and Roll Mixing and Mastering
Mixing and mastering work was completed in his studio, using Ableton Live and Josh's "Shirty Mastering" signal chain which includes Abbey Road Studio's Studio 3 plugin and Izotope Ozone.
Once mastered, Josh went on to test the master recording on a variety of consumer systems (including headphones, tinny smartphone speakers and a 2.1 sound system) making subtle EQ tweaks to cater to the widest range of devices while not compromising the integrity of Shark Attack's "in your face" rock sound.
Release
Reviews
Shark Attack was released via Distrokid on April 4th, 2021 and it went on to receive positive reviews.
Alt 77's review especially recognized the humor in the lyrics and the production techniques used to bring the song to life:
"[Tofu Boy] makes good-sounding records, but he's doing it with a chuckle. And, if you don't get his humor, as most of us won't, then the joke is most likely on you. Shark Attack is a nice mix of pop melodies and punk-rock political righteousness. Tofu Boy might just be the smartest kid in the room, and don't expect him to hold his talent back."
Shark Attack also featured on Music Injection Blog :
"I love how this song looks back fondly on things that used to be part of pop culture. The sound of the vocals is quirky and catchy. Take a listen to 'Shark Attack'. It is well worth your time!"
"[Shark Attack] starts off with a real heavy riff and that's what sucked me into it."
and was included on numerous curated Spotify playlists.
Project, done!
If You're Making Music
Josh Shirt is available to work with you – as a sound engineer, music producer and/or mastering engineer – wherever you are in the world.
Josh is our Head Mastering Engineer & Music Producer here at Shirty Mastering.
View his rates for studio work here or contact Josh for more info.