Through the unique and affordable one-on-one services we offer, we can help you get a great sound from the music you're making.
We believe that transparency and discussion are key to making great sounding music, and all of our services have discussion (between us, the engineers, and you, the artist) at their heart.
A lot of musicians say that working with us holds them accountable for finishing their music. They see contacting us as a commitment to finishing a song or album, and we are here to help you get the best sound from your music as it crosses the finish line.
Songs that we have worked on have been successful, being played on the radio & TV and blogged online.
We are based in Fort Collins, Colorado and we can meet with you in person. We also host an online store so we can collaborate with you wherever you are in the world.
Our customers rate us highly on Google.
What Our Customers Say (taken from Google Reviews)
"Josh at Shirty Mastering gave me very thorough, detailed and useful feedback on my mix. His guidance allowed me to bring my mix up to a whole new level, and make it ready for mastering, while at the same time learning a lot about mixing. Josh also mastered my song, and I couldn't be happier with the result!"

– Bjarne L
"I have been working Josh at Shirty mastering for year now and its been a great experience. He makes me sound professional, he is responsive to my wishes, and he keeps me on track."

– Butch H
"Sound quality was top notch on our project and improved 1000 fold and he kept in touch every step of the way to make sure we were happy and he was moving in the right direction."

– Sean L
"His concise feedback on my mix made for a definite improvement, and then during mastering he was able to bring out an extra richness in my track that was lacking in the mix. He did a good job of listening to my feedback as well and making some adjustments. I'm very happy with the result!!"

– Cristina B
Some Music We've Worked on Recently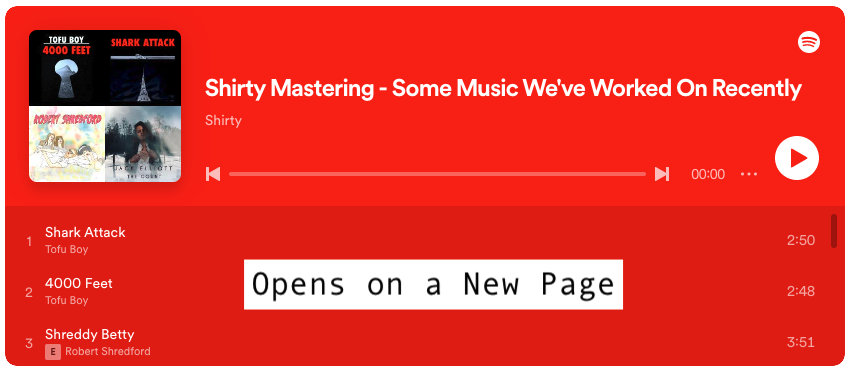 Our Mastering
Mastering is about using technical tools to enhance a track and bring out the emotion or vibe of a song. We are music lovers experienced at creating and engineering great sounding music.
We offer a unique mastering service where we give feedback on your final mix before we master.
Once we've mastered your music, if your first master isn't exactly as you want it, we will create a second version free of charge, taking your feedback into account.
Our Professional Song Critique
We can highlight problem areas in your final mix and tell you how to fix them. You can carry these mixing tips forward with you into your future recordings and songs.
We know that you've likely, single handedly, done most of the work on your music. Now you can trust us to help you apply the finishing touches so you can feel confident about the track you release.
By working with us, you can be assured that our expert perspective and many years of studio experience inform our suggestions for your music.
Still Have Questions?
Please contact us or take a glance at our FAQs