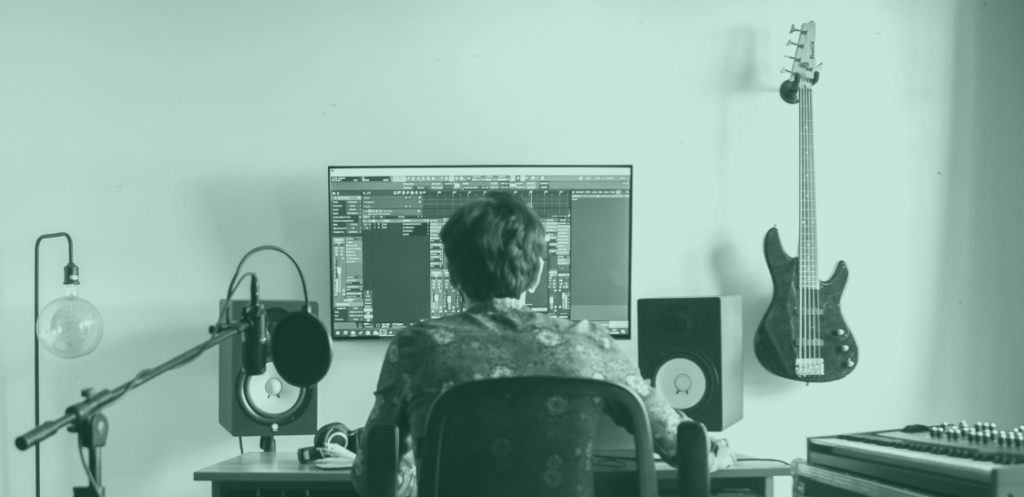 If you are looking to start a podcast, record an audio book, record your music, record your band, become a voiceover, or become a music producer, we are here to offer advice!
Through our home studio consultation, we can:
recommend equipment to purchase to meet your aims (microphones, cables, interfaces, DAWs)
explain how to record great sound (with our "Recording 101", suitable for complete beginners)
recommend professional software for editing your recordings and producing your music
explain how to best use any equipment you already have
explain DIY techniques to acoustically treat your home studio with everyday items, that you likely have readily available to you, to achieve a great sound from your microphones
We have assembled top class studios everywhere and we can assure you that you don't need a big budget to record great sound!
Our recording work can be heard on radio, TV and online around the world, and audiobooks we have recorded and engineered are available on Audible and through respected publishers.
Our head engineer, Josh Shirt, is a professional voiceover artist and he has always built his own home studios (in which he has recorded audio that has literally been broadcast to millions of listeners). When you work with us, Josh will be your home studio consultant.
What to expect when you ask us for a recording studio consultation
If you already have some audio gear, we'll begin by reviewing your current recording equipment. If you have done sound recording before and have built up a collection of music gear and recording equipment, tell us all about it – we can help you use it to your best advantage.
If you don't have any equipment yet, no problem! As part of our service we can recommend all of the equipment you need. Just tell us your recording aims and your budget, and we will recommend the equipment that you will need to achieve your goals. We can then find the products, and send you links to them so that you can buy them at your leisure.
You may be asking, how much does it cost to build a home recording studio?
It really depends. If you already have a up to date computer, for podcasting, $100 can be enough to get the microphones you need and begin work.
For a simple home recording studio (think singer / songwriter or bedroom producer, not including musical instruments) an equipment budget starting at $500 can start to get you good results.
If your budget is higher, great! We can work with that, too.
We are well versed with musical instruments, recording equipment and audio post-production and will tell you how to best use your budget to meet your aims.
Consult with us
We will meet with you via Google Meet (anywhere in the world) to carry out your home studio consultation.
Alternatively, we also offer home studio consultations in person in Fort Collins, Northern Colorado.
Our consulting service is $100 per hour we consult. Podcasters usually only need one hour with us ($100 in total) to be up and running, bands and musicians often benefit from two hour consultations ($200 in total), but how much time you book is totally up to you.
Our home studio consultations typically include:
meeting to discuss your aims and your budget, and give advice on equipment needed and/or advice on using the recording equipment that you already have (This can be provided online via Google Meet, or in person in Northern Colorado)
a "Recording 101" lesson, where we will explain how to record great sound using your audio gear
acoustic treatment recommendations to improve the sonic quality of your recording space and your recordings
discussion of custom configuration options for your specific recording equipment, to achieve the best results in your preferred musical genre (e.g. rock, metal, pop) or audio format (e.g. podcast / audiobook / voiceover)
Our home studio consultations start at $100. We can meet with you online, or in person in Northern Colorado.
Later, we can teach you how to best use your new studio
We can walk you through, step by step, additional recording setups or different ways of using your equipment. We charge $100 per hour to answer your questions and give recommendations (online, or in person in NoCo). We often share comprehensive setup notes and diagrams after these sessions.
On the other hand, if you are making music and want to improve as a producer, we offer music production lessons.
Once your recording project is finished, we offer professional music mixing and comprehensive audio mastering. We can undertake audiobook and podcast mastering, too, making sure that your audio conforms with the standards set out by Audible and / or Spotify in order to pass all quality control checks.
We are excited to help you build a quality home recording studio and record a great sound.
Contact us here for more information.