A songwriting meetup group in Fort Collins, Colorado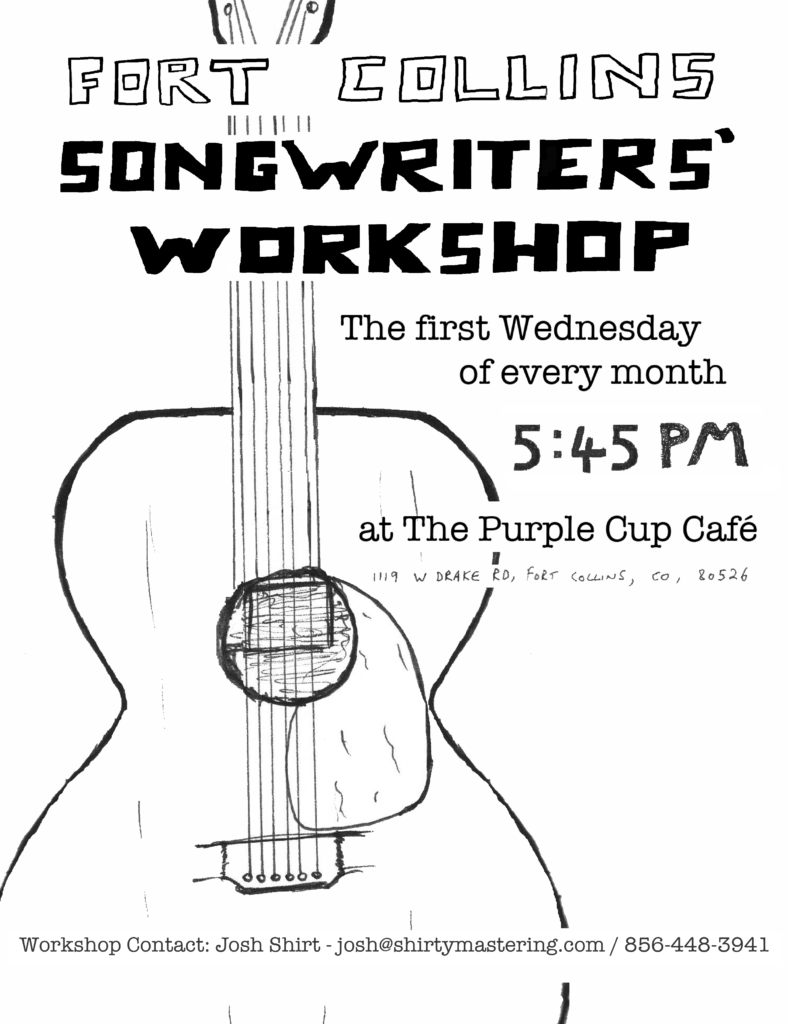 Upcoming Meetings
Wednesday February 2nd, 2022 – 5:45pm
Wednesday March 2nd, 2022 – 5:45pm
Wednesday April 6th, 2022 – 5:45pm
Fort Collins Songwriters' Workshop is a free, friendly and productive group for musicians and songwriters in Northern Colorado.
Join us to workshop your latest song, and share your constructive feedback on other people's work.
We meet the on the first Wednesday of every month at The Purple Cup Café, 1119 W Drake Road, Fort Collins, CO, 80526 (at the intersection of Drake and Shields) at 5:45pm.
How to Join
**For our winter meetings, vaccination is required and please wear a face mask**
Just show up!
Please consider enjoying a drink or snack in the café to thank The Purple Cup Café for hosting us.
Bring along a guitar, or any other instrument that you need to play your song.
Recordings of your track on a phone or computer are also welcome and can be plugged into our speaker.
Please print out multiple copies of your lyrics and bring them with you, or email to josh@shirtymastering.com for projection during the workshop.
Any questions? Contact Josh Shirt: josh@shirtymastering.com / 856-448-3941